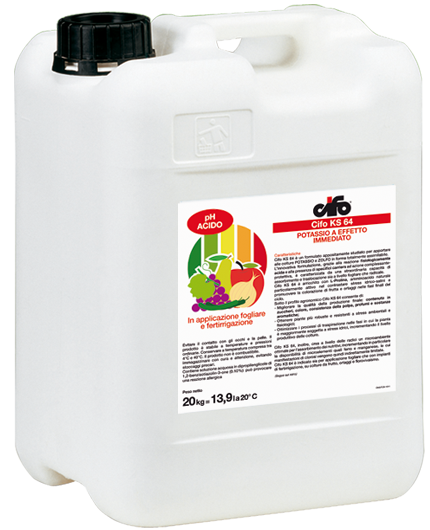 Allowed in organic agriculture

Approved for organic agriculture

Pure concentrate of Macrocystis Integrifolia
PROPERTIES
CIFO KS 64 is a formula especially created to provide cultivations with POTASSIUM and SULPHUR, in a totally assimilable shape.
The innovative formula, thanks to the physiologically acid reaction and the presence of specific carriers with a complexing protective action is characterised by an extraordinary absorption and translocation capability both on a leaf and root level.
CIFO KS 64 is enriched with L-Proline, a natural amino acid particularly indicated to fight hydrosaline stresses; it also promotes fruit and vegetables colouring during the cycle final stages.
Under the agronomic profile, CIFO KS 64 allows to:
Improve the quality of the final production: sugars content, colour, pulp consistency, smells and aromatic substances;
Obtain plants more robust and resistant to environmental and physiological stresses.
SIZE
20 L