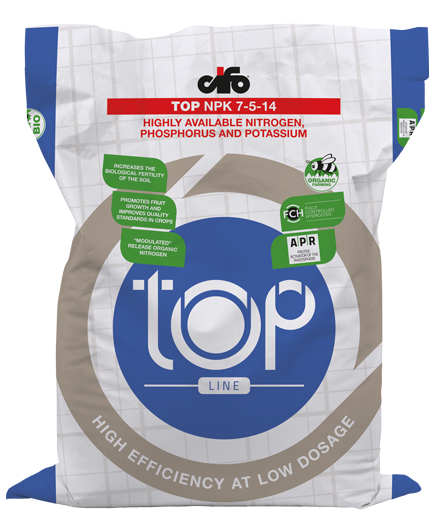 Allowed in organic agriculture

Approved for organic agriculture

Pure concentrate of Macrocystis Integrifolia
PROPERTIES
TOP NPK 7-5-14 is a new concept pelleted fertilizer, especially rich in potassium. Moreover it contains slow and modulated release organic nitrogen and phosphorus.
TOP NPK 7-5-14 is especially suitable for fruit orchards, vineyards and olive trees, as well as horticulture and extensive crops with high quality requirement.
Its innovative matrix obtained by the FCH® process, enables a natural controlled release of nitrogen that minimizes losses.
Due to presence of APR®, TOP NPK 7-5-14 has a biostimulant action on root, soil, nutrient absorption and increases plant tolerance to environmental stresses.
Supports fruit growth also in crops with high potassium demand
Enhances soil fertility
Increases qualitative and commercial standards of final production
Prevents potassium deficiencies
SIZE
25 kg