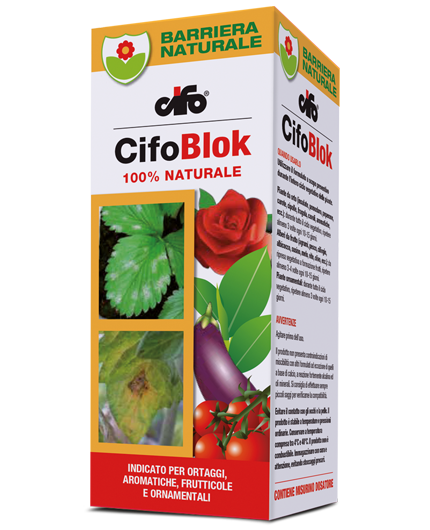 Allowed in organic agriculture

Approved for organic agriculture

Pure concentrate of Macrocystis Integrifolia
PROPERTIES
New frontier product of natural origin containing vegetal extracts (Echinacea, Tormentil, Aloe) and mineral salts.
CIFOBLOK, stimulates biosynthesis of endogenous substances able to strengthen plant tissues making them more resistant and hindering the development of pathogens (oidium and downy mildew) that are common on ornamental plants as well as in gardens and vegetables gardens. The formulation contains also amino acids, sugars and nutrients able to favor flowering, make nutrition more effective, strengthen plants;; making them greener and healthier.
PERIOD AND INSTRUCTION FOR USE
Use the formulation, with preventive aim, during whole vegetative cycle of plants.
Dilute 3 ml of product in one liter of water, spray the solution directly on the plant wetting it uniformly. If flowers are present, reduce the dose, diluting 2 ml of product in one liter of water.
It can be used for vegetables, aromatic plants, fruit trees and ornamental plants during the whole vegetative cycle. Treat at least 3 times every 10-­15 days.
PACKAGING
100 ml