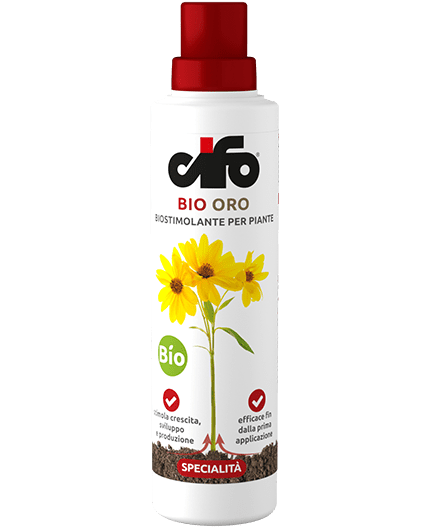 Allowed in organic agriculture

Approved for organic agriculture

Pure concentrate of Macrocystis Integrifolia
PROPERTIES
This is the original UNIVERSAL BIOSTIMULANT, whose application will produces plant luxuriant development. It supplies essential amino acids with immediate effect together with a gradualrelease nitrogenous nourishment, that are all essential substances for plants growth. Plants functions are improved soon after the first application and the development of new buds is positively influenced.
It enhances flowering, favours fruit formation and improves the growth and ripening of the vegetables and fruits grown in the vegetable garden. It helps lawn grass thickening and revitalizes the plants stressed by climatic causes (hail, frost, lack or excess of water, etc.).
Period and instruction for use
It can be used all the year round for the lawn and for indoor, balcony, terrace, garden and vegetable plants. Dilute the content of one measuring cap (18-20 ml) every 3 lt of water and apply to the soil. Repeat the application every time you water the soil. For lawn and open field plants, use 5 lt of solution per sq. mt.
During winter apply every 15-20 days.
Packaging
500 ml bottle