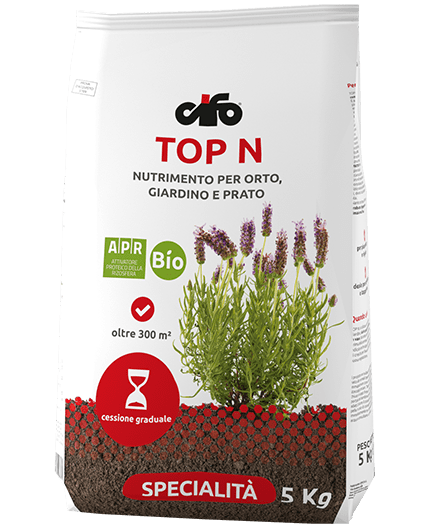 Allowed in organic agriculture

Approved for organic agriculture

Pure concentrate of Macrocystis Integrifolia
PROPERTIES
Top N is the original biological nourishment in slow release micro-­ granules that makes healthy and vital all ornamental, green and flowering, plants.
Top N favours an optimum plant development, makes them luxuriant, thick, giving an intense colour to their leaves; it favours a rich flowering and improves flower colours and life span.
PERIOD AND INSTRUCTION FOR USE
It can be used all the year round. Its use is extremely simple: measure out the desired quantity using the measuring cup provided and than evenly apply to the soil Indoor and balcony plants: for pots having a 18-­20 cm diameter, apply 8-­10 g.
Repeat applications every 15-­20 days. Proportionally change the dose for differently-­sized pots. Ornamental, green and flowering garden plants: apply 40-­50 g/ m2. Repeat applications every 15-­20 days from spring to autumn.
PACKAGING
5 kg box