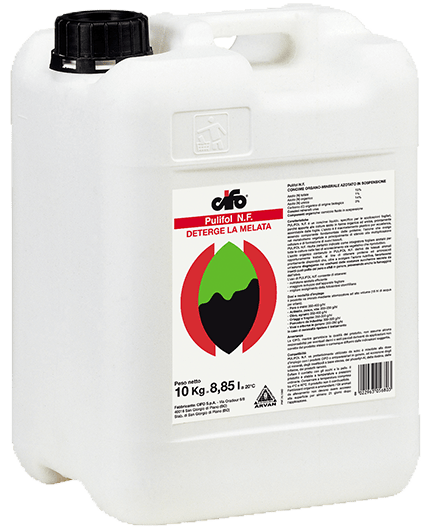 Allowed in organic agriculture

Approved for organic agriculture

Pure concentrate of Macrocystis Integrifolia
CARATTERISTICHE
PULIFOL N.F. is a specialty, in liquid formulation, specifically developed to clean thoroughly leaves, buds and sprouts from the honeydew produced by insects.
The formula contain specific organic active principles which break down sugary substances secreted by insects such as pear's psylla, aphids and other type of stinging-sucking insects.
Cleaning of aerial organs increases the insecticides efficacy and prevents the formation of sooty mold.
The presence of biostimulants aminoacids and organic nitrogen in PULIFOL N.F. allows a quick plant's recovery from the phytosanitary stress, promotes the photosynthesis process and the new vegetal tissues growth.
CONFEZIONE
Size: 10 L
COMPOSIZIONE
Total Nitrogen (N) 15%
Organic Nitrogen (N) 1%
Ureic Nitrogen (N) 14%
Biological origin organic carbon (C) 3%