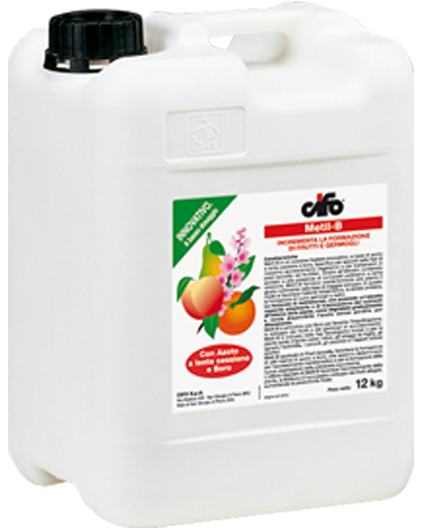 Allowed in organic agriculture

Approved for organic agriculture

Pure concentrate of Macrocystis Integrifolia
PROPERTIES
METIL-B is an innovative foliar fertilizer, based on slow-release Nitrogen and Boron, which is specific for applications during the stages of maximum vegetative growth and for post-harvest treatments in fruit trees.
Thanks to the high content of Nitrogen and to the presence of slow release polymeric compounds, METIL-B firmly supplies the plant with the right type of nourishment suitable during the stages of its maximum development.
In this way the photosynthetic activity, the protein synthesis, the formation of new buds and roots are promoted.
The methylene urea molecule, that has a high adhesive and nutrient translocation capacity inside the plant, is gradually degraded and makes nitrogen available avoiding losses due to washing-out.
METIL-B is enriched with Boron to promote pollination and the formation of growing buds and fruits.
SIZE
10 L