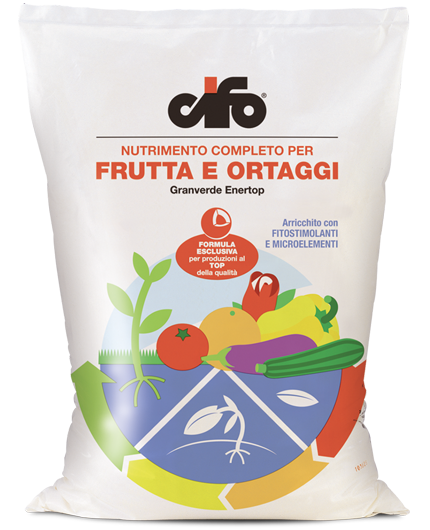 Allowed in organic agriculture

Approved for organic agriculture

Pure concentrate of Macrocystis Integrifolia
Properties
GRANVERDE ENERTOP is a new generation fertilizer, the nourishment for all vegetables and fruit trees.
Thanks to the specific and complete formulation, GRANVERDE ENERTOP is a guarantee to obtain from fruit trees and vegetables rich yields, full-flavored and sweet fruit and stimulates flowering making it last longer as well as intensifying flower and leaf color.
Each granule of GRANVERDE ENERTOP contains natural catalysts of organic origin with " PHYTOSTIMULATING" and revitalizing action" in addition to main mineral nutrients ( Nitrogen, Phosphor, Potassium, Magnesium and microelements).
THE ADVANTAGES OF GRANVERDE ENERTOP:
To promote the formation of new roots and buds, increasing yield potentiality;; To favor the formation of fruits;;
To support fruit and vegetable development improving ripening process.
Period and instruction for use
GRANVERDE ENERTOP can be used during all vegetative cycle, from spring to autumn.
Fruit vegetables: 80 – 100g/m (along the row). From transplanting/seeding until fruit growth, treat twice every 30-40 days.
Leaf vegetables : 50 – 80 g/m (along the row). From transplanting/seeding until mid-crop cycle, treat twice every 30-40 days.
Fruit trees: treat under the tree foliage at the dose of 80-120 g/plant. 2-3 treatments every 30-40 days from vegetative start until fruit growth.
Green and flowering plants: 80-100 g/m2 – 2-3 treatments every 2 months from vegetative start until autumn.
Lawns: 50-60 g/m2, 2-3 treatments from spring till autumn.
To make nutrient solubilization and absorption easier, slightly bury the fertilizer and then water.
Packaging
5 kg sack