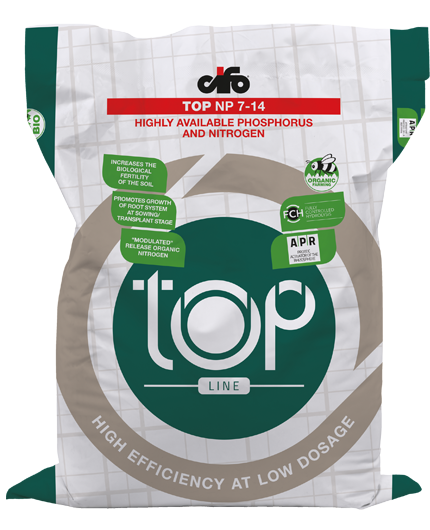 Allowed in organic agriculture

Approved for organic agriculture

Pure concentrate of Macrocystis Integrifolia
PROPERTIES
TOP NP 7-14 is a pellet organo-mineral fertilizer rich in phosphorus with a biostimulant action.
Its innovative matrix obtained by the FCH® process, enables a natural controlled release of nitrogen that minimizes losses.
TOP NP 7-14 has been developed for application before sowing/transplanting, at vegetative recovery and in post harvest of fruit trees.
Due to its high level of available phosphorus and its exclusive formulation with APR®, TOP NP 7-14 has an optimal starter effect.
The biostimulant complex APR® has a triple action on soil, roots and nutrient absorption
Promotes a rapid development of the root system at emergence and after transplant
Has a starter activity on row crops
Delivers high levels of available phosphorus
SIZE
25 kg